I used to be harassed By Karan during making of ADHM: Anushka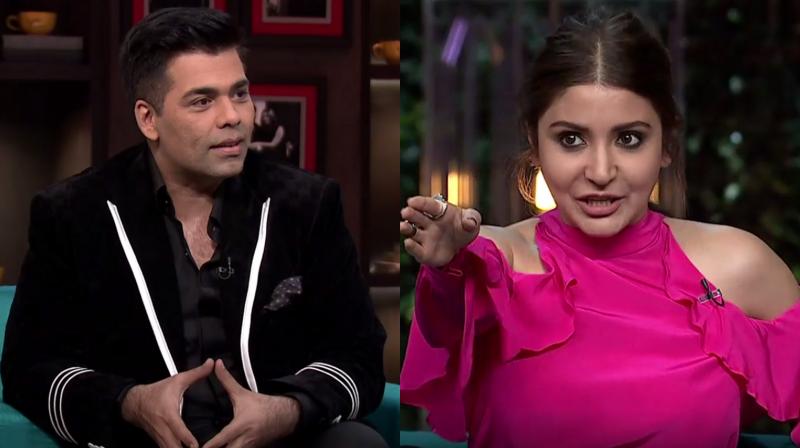 She also said that Jacqueline Fernandez had a similar allegation against KJo.
The actress also revealed that she was going to put a sexual harassment case against him.
Continuing the custom of Koffee with Karan it witnessed the another show of the juiciest of gossips and the dirtiest of secrets. Bollywood celibrities who is trying to guard their personal lives and their real selves surreptitiously, have often been failed by the paps or Karan Johar himself.
But this tim it seems that the tricks of karan is going to be heavy on himself as Anuska alliged him for harrising herself
The episode, which hosted Katrina Kaif, a major revelation, and Anushka Sharma, was inarguably amongst the season.
However, the most scandalous bit was when Anushka Sharma casually revealed that she had been touched inappropriately by Karan Johar, during the making of their recent film together, 'Ae Dil Hai Mushkil'.
When Karan shyly revealed that he had a crush on Anushka through the making of 'Ae Dil Hai Mushkil,' the actress, who was taken aback at first, finally found her composure and said, "I am feeling really flattered, I must tell you. Because if I can do THAT…"
But what followed was the real deal breaker.
Her demeanour changed and the conversation escalated drastically, as she went on to add, "I was going to put a sexual harassment case against him. He would sometimes touch me very inappropriately."
Katrina tried to side KJo, though, remarking, "Maybe it was to spark a little fire inside you."
Not one to take it lying down, Anushka went on to add, "Even Jacqueline made a complaint against you at Manish's (Malhotra) party that you were touching her inappropriately."
Sensing that things were taking a slightly uncomfortable turn, Kat intervened, concluding, "We should postpone this 'legal' matter for another day. It's because I love you two, and I don't want anything bad to happen to you."
All in good humour and sporting banter, we hope!